Join the Truth Cafe Today!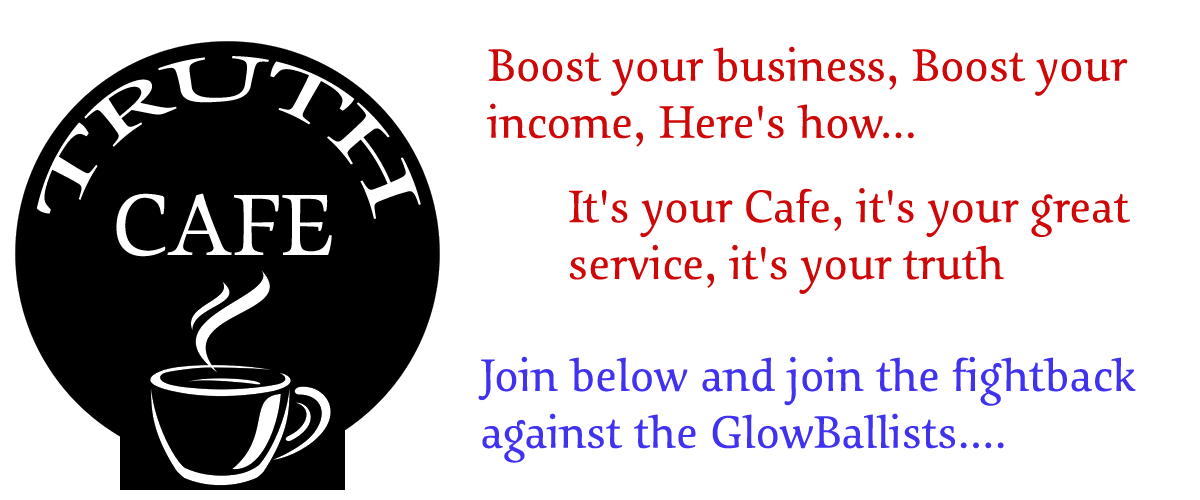 All these great benefits - and loads more to be Added!
We have been hard at work for months putting this together to help us all thrive through endless lockdowns, and thrive against TAX FREE global brands supported by HMG, (let's face it they look out for their chums and receive backhanders in return) and most of all, to attract like minded, decent people to your business.
We actively and continuously promote your Food Service on Telegram, Facebook, etc...
Joining you all together into the Truth Café community and finding you customers that don't feel the need to be sterilised every time they touch something!
Reach 1000's of potential new regular customers based in your area and plenty more on holiday or just passing through...All promoted through our various associate groups and contacts.

There's a growing movement of people who now, more than ever, really don't want to support Bigbucks and Costa Packet, they want to support small businesses with a heart & soul and will go out of their way to do so.

We have over 35 years of sales and marketing experience and over 25 years in website construction, digi marketing, running our own sites too and have a database of hungry and thirsty customers, looking for someone like you to give their money to.
There are no changes to your café/pub required - You Decide on those! - Hopefully you should give customers the choice on wearing a mask or not, data collection etc, and hopefully not surrounding them with Perspex, giving them instructions on how to wash their hands and shouting at them to stand back whilst being measured with a 2m stick.
Your Ad Layout (See Examples - Black / White background) You can sell a bit of ad space (maybe to your coffee / beer supplier / Block Paver / Builder or any business owning customers) to offset the already low costs of Truth Café, put on your logo and add more details. Other types of business are welcome to join us Truth dentists, Truth dr's/health therapists/midwives/podiatrists, Truth hairdressers and beauty, Choir/singing groups/churches, Dance groups/classes etc however this will be a great opportunity for your Pub/Café with your local knowledge to promote these services in your premises and within your advert totally offsetting your membership costs!

Access to your own private forum and groups.
Because we limit the number of pubs and cafes in any one area...
You can join up with other similar businesses and share great income generating, lockdown beating ideas without fear of competition. Going on holiday, why not look up a fellow owner? Since we started to recruit we have made SO many new, like minded friends.

Access to great Music Playlists and other Entertainment
Constantly changing and always up to date

CONvid Compliant - Delivery or Eat In
Whatever the current confusing rules are, we never stop promoting your outlet.

Access to our Common Law advisers
Know your rights and you won't be bullied by people who don't.

More marketing ideas/material + instant way to cover our already low membership cost
Plus as we grow, many more benefits on the Way!
We now have great venues signed up in the first 10 days and are looking for around 350 to make this a truly national force for good and to stick it to the big boys!

OPENING OFFER
Save 50% For those that subscribe within the next 28 days, be the first in your area.



Or just £12 monthly ... unsubscribe any time!
Just one new regular customer will more than cover the cost

Join now to secure this price for continual subscription!

Use link below to Pay… And we will do the rest... We will be in touch within 24hrs usually sooner!
Use Payment Link below - Debit / Credit Card!
If you require further info we will give you a call. Use the
Contact Form
on the front page and we will get in touch. We are happy to talk you through the process and we are definitely not 5G controlled bots!

£120 per year.

Or Choose Monthly here £12 per month.

Find Your Local Cafe / Pub - Food Delivery Service
Welcome to our new service to help Truth loving customers find your business and each other. We are mainly promoting Cafes independent Pubs through our Telegram Channels listed below at the moment, so please follow and join group. Once we have a sizable group of cafes involved we will include their details on this page too…

Join these free Networks below or subscribe to our own private forum Truth Finder to keep updated!

Follow Channel https://t.me/Truth_Cafe

Join Group https://t.me/TruthCafes

FaceBook Page
TruthCafes
Rosi Golan ft Gary Lightbody
Everything Is Brilliant!
Truth Quote
Replace this truth quote with your ad with link to your site. Contact for details.