Join the Truth Café Today!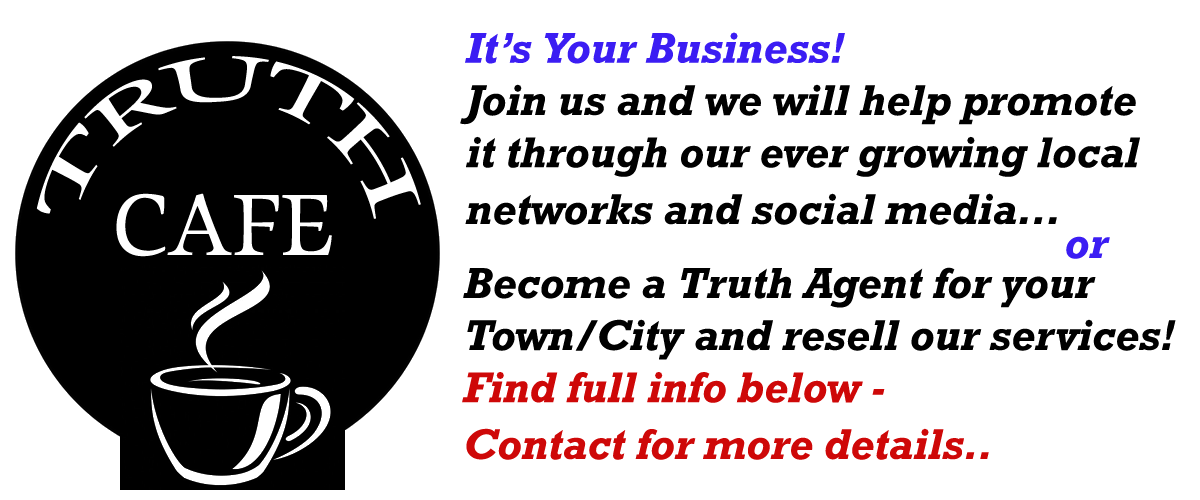 Benefits - More to be Added!

Promotion of your Café / Pub / Business on Telegram - Facebook etc.etc..
Reach 1000's of potential new customers in your area.. Promoted through our local Groups and contacts!
(This is business promotion - not personal views - and only about services offered)
There are no changes to your cafe/pub required - You Decide on those! - Hopefully you should give customers the choice on wearing a mask, data collection, etc etc in accordance to law not guidance.
Your Ad Layout (See Examples - Black / White background) You can sell a bit of ad space (maybe to your coffee / beer supplier / Block Paver / Builder or any business owning customers) to offset the already low costs of Truth Café membership, put on your logo and add more details.

Access to your own private forum and groups

Access to great Music Playlists and other Entertainment

CONvid Compliant - Delivery or Eat In

Access to our Common Law advisers

More marketing ideas/material + instant way to cover membership cost

Plus many more benefits on the Way!

Join Below as - A Business Owner or
Truth Agent (same low price)
Truth Agents - For those with sales and local knowledge become a reseller in your area. Join to access and understand all features and add multiple business memberships for the one low price in your area! Sign businesses up and offer support for them to get the most out of the Truth cafe services. Secure your area - 20 mile radius of your town/city. You will receive full payment at current rate of any businesses that directly sign up via website within your area. Option to increase charges relevant to additional support you offer for businesses that you personally add to your account.
OPENING OFFER


Save 50%

For those that subscribe within the next 28 days, be the first in your area.





Or just £12 monthly ... unsubscribe any time!

Just one new regular customer will more than cover the cost
Join now to secure this price for continual subscription!
Use link below to Pay… And we will do the rest... We will be in touch within 24hrs usually sooner!
Use Payment Link below - Debit / Credit Card!
If you require further info we will give you a call. Use the
Contact Form
on on the front page and we will get in touch.

£120 per year.

Or Choose Monthly here £12 per month.

Find Your Local Cafe / Pub / Business Service
Join these free Networks below to keep updated!

Follow Channel https://t.me/Truth_Cafe

Join Group https://t.me/TruthCafes

FaceBook Page
TruthCafes
Rosi Golan ft Gary Lightbody
Everything Is Brilliant!
Truth Quote
Replace this truth quote with your ad with link to your site. Contact for details.