Close page to return home


Satanic Rituals and Beliefs of the Elite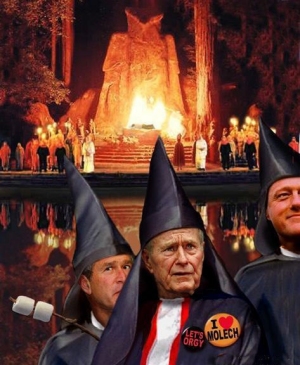 Well you could not make it up. Whether you are
religious or not it does not matter. As these freaks do believe in it and worship lucifer.
Perform rituals and sacrifice. They believe
they are the ones that will reconstruct the earth not happy that its perfect anyway for life.
Watch Mysterious Monumets (10 parts) on left for full understanding of their beliefs and buildings.





www.bohemiangroveexposed.com

www.bilderberg.org/bohos.htm

www.fleshingoutskullandbones.com

www.bilderberg.org/skulbone.htm




Secrets in Bohemian Grove


The bohemian club


Skull and Bones



Mysterious Monuments - Texe Marrs Part 1


Part 2 http://www.youtube.com/watch?v=RX-cepdBpjs
Part 3 http://www.youtube.com/watch?v=jBdCy2JFoZk
Part 4 http://www.youtube.com/watch?v=HZXy5_EYUVo
Part 5 http://www.youtube.com/watch?v=i3oJAE93mu4
Part 6 http://www.youtube.com/watch?v=O-9LXDKvWo4
Part 7 http://www.youtube.com/watch?v=UVsPi1BLHEw
Part 8 http://www.youtube.com/watch?v=MmrbN6l_-PU
Part 9 http://www.youtube.com/watch?v=4tAfLMFCW-I
Part 10 http://www.youtube.com/watch?v=NjPI2CqRZh8


Dark Secrets in Bohemian Grove



Skull and Bones The Order of Death





















Close page to return home